Things are improving so slowly for women in corporate America that we aren't going to achieve gender equality at the top for another 100 years, according to a report released Wednesday.
It's not for the reasons you might think — i.e., it's not a "mommy issue." Both women and men reported feeling strained by the competing pulls of work and family, according to the survey of nearly 30,000 workers at 118 North American companies. The survey was conducted by McKinsey & Company and LeanIn.org, a nonprofit focused on women's advancement founded by Sheryl Sandberg, chief operating officer at Facebook.
The big, ugly, hard-to-fix issue, the study suggests, is gender bias. That contradicts a lot of the conventional wisdom about why women don't make it to the so-called C-suite — the highest levels of a company where you find the jobs with "chief" in the title, like chief executive and chief finance officer. Only 17 percent of those lofty positions are held by women, according to the McKinsey/LeanIn survey. There are only 24 female CEOs on Fortune's list of the 500 biggest companies in the U.S. That's an improvement from 1998, when there was just one woman on the list, but it still means that men hold the chief executive spot at over 95 percent of those businesses.
"Some of the biggest barriers are cultural and related to unconscious biases that impact company hiring, promotion, and development processes," said Dominic Barton, global managing director of McKinsey & Company, in a press release. He's using the current corporate jargon for sexism at work.
These days, sexism has (mostly) moved beyond the crass discrimination of the "Mad Men" years, shape-shifting into something we now call unconscious bias — the things a lot of us believe about women without even realizing it. These attitudes are harder to combat, or even prove, but they show up again and again in the research. A lot of people, for example, believe on some level that women are less competent than men. There's also something called a "maternal bias," in which mothers who do well at their job are disliked — and kept from advancing — because they're believed to be terrible parents.
Women hold 45 percent of entry-level jobs at the companies surveyed, and their ranks thin out as you go higher. Only 27 percent of vice presidents at those companies are women, as are 23 percent of senior vice presidents and 17 percent of C-suite execs. These figures are a very slight improvement from 2012 (see the chart below). Very slight — that's where that 100-year estimate comes from.
So what's going on? First off, women aren't quitting their jobs or "opting out." In fact, the survey found that women, on average, quit their jobs at the same rates as men, or even less often. At the higher levels, women are more likely than men to stick around, the study found.
The issue is that women aren't getting promoted at the same rate as men — and at every step along the corporate ladder, women say they are less interested in becoming a top executive.
The reasons why are telling. For single women, the main reason they said they didn't want to advance any higher at work was stress. And while women with children said the main reason they didn't want to advance was because of work and family pressures, stress came in at a very close second for that group.
This isn't a case of "women are uniquely unsuited for the corporate environment because of their families and stuff." For men with children, the difficulty of balancing work and family was also the top reason they weren't interested in holding a higher-ranking job — 62 percent of men with children said that, compared to 65 percent of women with children. And mothers were 15 percent more interested in becoming a top executive than the women surveyed who didn't have children.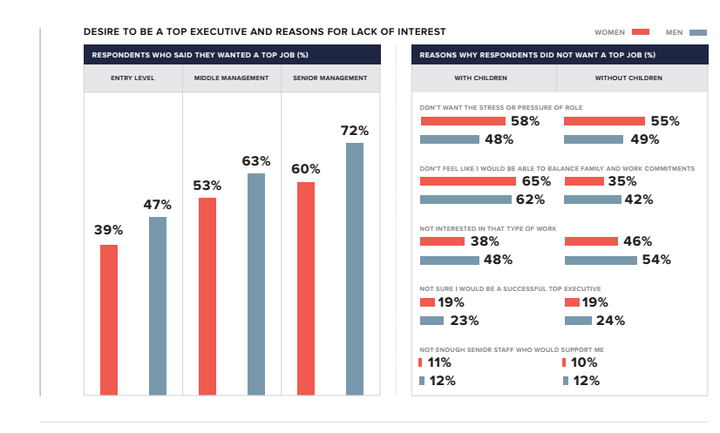 "Historically, we thought women were less interested in promotions because of their concerns with family responsibilities," Rachel Thomas, the president and co-founder of LeanIn, told The Huffington Post. "This study points to a new reason: There's something in the workplace that's more stressful for women. Women say stress and pressure is a top obstacle for them — all women, not just mothers."
The stress, Thomas suggests, comes from the bigger hurdles women face at the office. For example, there's research showing that women are often believed to be less competent at their jobs than they really are, while men are often believed to be morecompetent than they are. Women have to prove themselves again and again.
There's also a Catch-22 involving personality: Women who are seen as competent are less likely to be seen as likable, and women viewed as more likable are less likely to be seen as competent, research has shown.
"We always say that women walk on a tightrope," Thomas said. "Men are not on that tightrope."
According to the report, "women are almost four times more likely than men to think they have fewer opportunities to advance because of their gender — and are twice as likely to think their gender will make it harder for them to advance in the future."
Yet most men surveyed said that women had equal or greater opportunities at work than men do.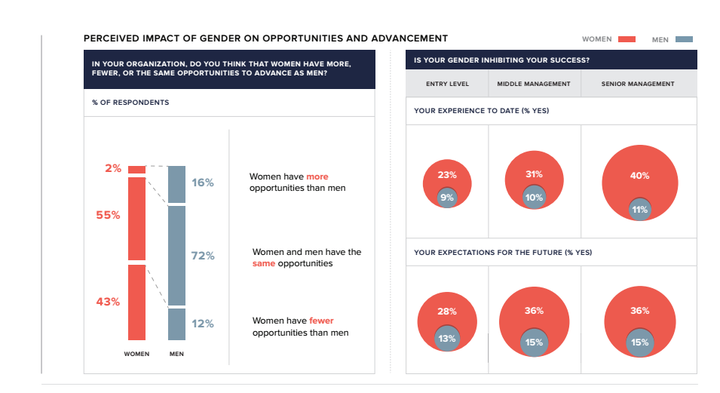 "There's a break between what people think and how they really understand the issue," Thomas said.
LeanIn, of course, wants to change things. The group's report contains a lot of good advice for companies looking to advance women:
Gather the data. Companies must systematically look at how many women they employ and how many women they promote. You need to be able to truly see the problem in order to fix it. Some companies, like Accenture and Ernst & Young, already do this.
Make it a priority. If leaders care about this, everyone else will, too. Get managers involved. Hold them accountable for achieving gender equality goals. Make sure employees know how to counteract bias. You see more companies like Facebook and Google doing unconscious bias training these days.
Create programs that actually help. At PricewaterhouseCoopers, for example, the performance review process is structured in such a way that it doesn't hurt women who take maternity leave.
There's no magic bullet on this issue, Thomas said. You can't just create a "women's networking group" or say you're focusing on the issue and expect the problem to vanish.
The report also touches on the gender inequalities that exist in other areas of life. For example, women still report that they do more of the work at home, which undoubtedly adds to their stress.
There are a lot of things companies need to do, Thomas said. "This is a big ship we're trying to turn."
Comments